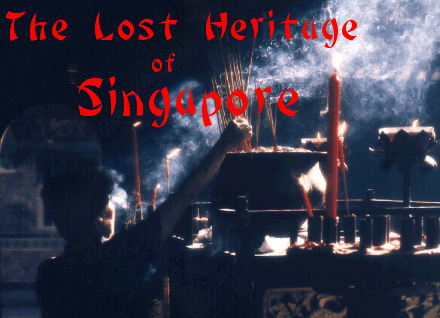 Blue smoke wafts into the humid air and filters the morning sunlight streaming into the courtyard.
In the early daylight hours people come to offer burning joss sticks, food, paper offerings and prayers to their Gods. Apart from the fashions little has changed here in well over a century.
Thian Hock Keng Temple, the Temple of Heavenly Happiness, has stood in Singapore's Telok Ayer Street for almost 160 years. In that time it has witnessed some dramatic changes.
During the early years of the 19th Century, foreshadowing what the future would hold for this tiny island nation, Hokkien Chinese immigrants originally came to a small joss house built on this spot to give thanks for a safe journey from their homeland.
Within a few years prosperity from their hard work allowed the new immigrants to begin construction of the Temple that now occupies the location of that original, humble joss house.
The sea, which once fronted the Temple has been driven back under the onslaught of Singapore's continued transformation.
The "old" Singapore is fast disappearing. Warehouses by the river, which once teemed with workers unloading the small boats bringing cargo upriver from the ships lying at anchor in the harbour, are now boutique shops and fashionable restaurants and have been restored to a grandeur they perhaps never knew in the past.
Multi-laned freeways, electronic toll-roads and highways elevated high above the city streets now crisscross the island.
Skyscrapers, those glass and concrete monuments to modernity, sprout from the central business district and multistoried, air-conditioned shopping complexes pull in shoppers from around the world - 7.2 million of them over the past year.
As Singapore modernises it is increasingly hard to find the original, more traditional life-style which has formed the bedrock on which this young nation has been built.
Some areas in Chinatown, Little India, the Arab Quarter and Geylang remain but they are disappearing almost daily.
This story is a pictorial search for some of those fast disappearing glimpses of Singapore's past.
PLEASE NOTE:
A wide range of original photographic essays are available for publication and are generally accompanied by a minimum of between 60-80 high quality images shot in high resolution 35mm digital format.
Editors may suggest specific story concepts related to the current schedule of the photographer with no obligation as to the eventual purchase of the material produced.
Barrie Brown Photography
Email: barrie@barriebrown.com
Copyright B. Brown 1999-. All images and text shown here are the exclusive property of Barrie Brown and may not be used, stored, reproduced or redistributed without the express written permission of Barrie Brown or his assigns.