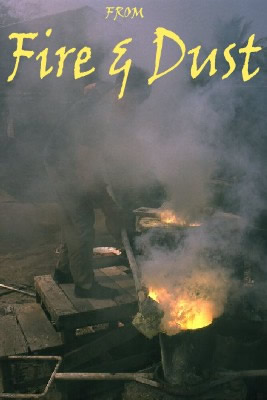 White smoke billows from the cauldron and a yellow-green flame erupts from the molten bronze an artisan ladles into the mould.
The heat from the furnace combined with the hot, northern Thailand sun blazing from above drenches the craftsman in perspiration, but he is unconcerned, concentrating only on his work.
Six and a half centuries have passed since Thailand's second most sacred Buddha image known as the Chinnaret Buddha was cast in bronze but the method being used in this foundry to create smaller copies is unchanged from that used to cast the original.
Hidden behind an unimposing green door, in a quiet back street of Phitsanulok, 400 km to the north of Bangkok, the foundry has been producing bronze images by the traditional method for over 30 years.
Small and using few modern tools, the foundry is cluttered with plaster moulds waiting to be fired in the kiln and half-finished red and grey castings assembled in long rows wait their turn for the lengthy and painstaking finishing process.

Toward the back of the foundry dust billows out from the base of a 4 metre high faceless torso sculpted from sand and clay as an artist rasps away buckets of dried sand to achieve the form he wants.
Apart from being a little smaller the finished image will be identical to the original Chinnaret Buddha which draws crowds by the hundreds everyday at a temple not far from the foundry. In an open fronted workshop, the shelves of one wall stacked with wax images of Buddha, a small drum of oozing, brown wax simmers on a fire of glowing red coals set on the earthen floor. Artisans inside work for hours to sculpt, mould and polish the handcrafted Buddhas that are revered throughout Thailand.



This story looks at the work of this small family-run foundry and the artisans who refuse to give up the processes that have been used for centuries to cast images of the sacred Buddha.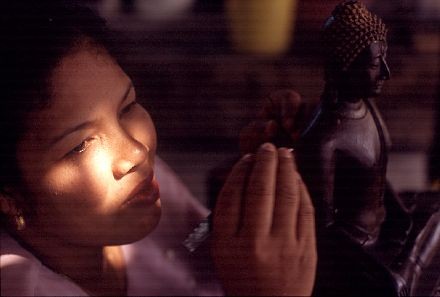 PLEASE NOTE:
A wide range of original photographic essays are available for publication and are generally accompanied by a minimum of between 60-80 high quality images shot in high resolution 35mm digital format.
Editors may suggest specific story concepts related to the current schedule of the photographer with no obligation as to the eventual purchase of the material produced.
Barrie Brown Photography
Email: barrie@barriebrown.com
Copyright B. Brown 1999-. All images and text shown here are the exclusive property of Barrie Brown and may not be used, stored, reproduced or redistributed without the express written permission of Barrie Brown or his assigns.